UX/UI DESIGN
---
objective

On teams of 2-3, redesign the user experience of a digital product for 5 years in the future through research and design sprints.

Duration: 5 weeks, April 2019

team

Joyia Squires: Company and User Research, UI Design, Writing
Katie Robinson: Competitor Research, Navigation UI

skills acquired

UX Strategy, InVision



​Familiar with Ravelry as a pattern catalog through our joint interest in crocheting and knitting. We discovered the strong community that makes Ravelry unique and strove to introduce this relatively unknown social media platform to potential new users through updated User Experience and User Interface design.
---
​Inviting New Users to Ravelry's Established Community
Ravelry is a one-of-a-kind social media platform for fiber artists. It is a knitting and crochet pattern database built upon forums and groups where users discuss their projects, plan meetups, and post their creations. The site's design has not been updated since it went live over a decade ago, and the number of features and confusing organization deter new users from joining the community. Ravelry also does not have its own official app.

With the rising importance of mobile platforms, we set out to design a user-friendly app for Ravelry that encourages new users to interact with the community.
Research
​We began by interviewing people who knit/crochet as a hobby. Not everyone was aware that Ravelry existed, and those who did used it rarely.

​Everyone mentioned that its design was outdated and it was too confusing to navigate.

To get a different perspective, we visited a Local Yarn Shop and spoke with the owners, employees, and customers about their experience with Ravelry.

​Although employees must teach customers how to use the site, they—and all loyal users—want Ravelry to stay the same.
User Survey Results

A survey of users

active on forums

revealed the disparity of users involved in Ravelry's community. When Ravelry first launched a decade ago, the majority of users were

20-49 years old

. The 2016 Creative Products Size of the Industry Study reported that

34%

of all knitters/crocheters are ages

18-34

,

36% are 35-54

, and

30% are 55 and older

.

Comparing these numbers to our user survey shows us that younger and beginner users aren't very active in the Ravelry community.

​

This data, combined with the heavy use of smartphones (despite there being no official Ravelry app) gave us the opportunity to design a mobile application for these users who are being left out of—or have no interest in—the Ravelry community.
For the scope of this project, our target audience would be new users (ages 18-34) who knit/crochet as a hobby and are not yet skilled enough to create their own patterns.
Pain Points
The sign-up process requires a roundabout invitation link

The pattern search page is overwhelming and difficult to navigate

New users feel intimidated by the community

Goals and Priorities
​

Business Goals

Increase awareness
Maintain community
Sustain self financially through merchandise and carefully curated advertisements

Brand Goals

Create community, provide a social hub for fiber artists
Be welcoming to new users
Create a helpful and positive experience for users

​

​

User Goals

Find patterns
Meet likeminded people
Buy and trade yarn
Learn new techniques
Share projects with friends
Be welcoming to new users,
Create a helpful and positive experience for users,
​Find patterns
Ravelry is a supportive community of fiber artists that invites beginners to develop their skills alongside experts. Find patterns and yarns at home or on-the-go with this customizable and dynamic organizational tool.
​
Prototypes and Testing

With so much content and the amount of features Ravelry provides, it was a challenge to narrow down what to focus on. We started with sketches of screens to test a variety of tasks integral to the Ravelry experience.

Through our tests we learned that news users wanted to combine Ravelry's organizational Notebook feature with their Profile.

They wanted to see more emphasis on learning, tutorials, and getting one-on-one help from expert users on the site.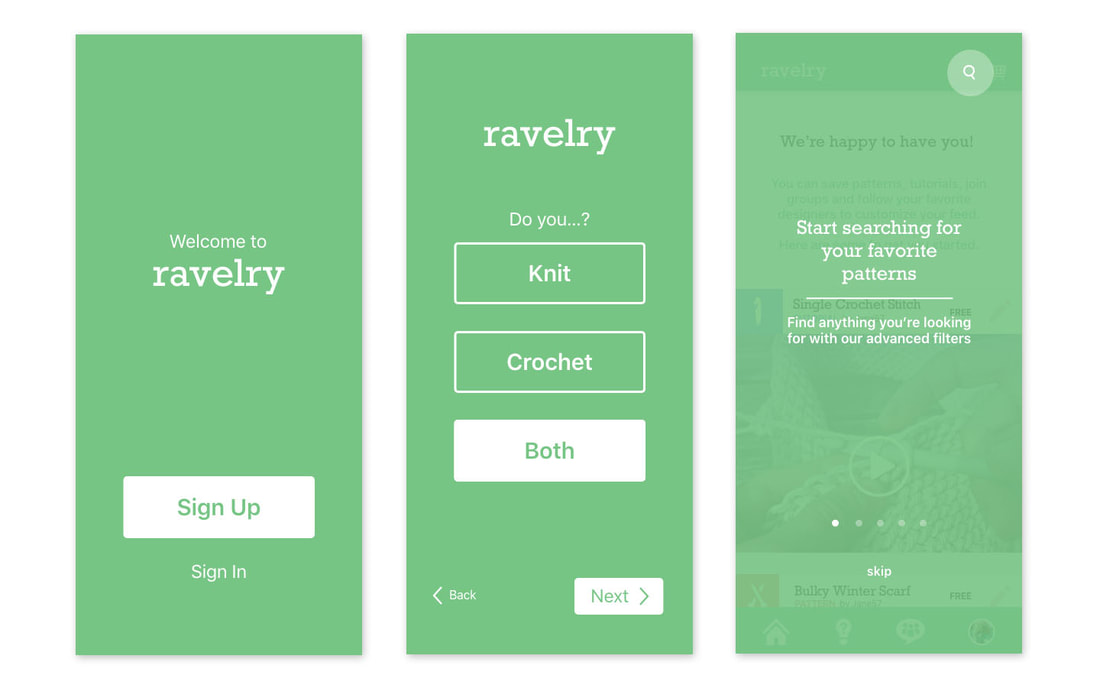 Sign-Up Experience

The streamlined sign-up process takes the new user through questions that help to customize their experience. Their answers dictate the suggested tutorials and patterns that appear on their feed and in searches. As they use the app, it learns from their searches and saved patterns to continue providing helpful information and inspirational posts.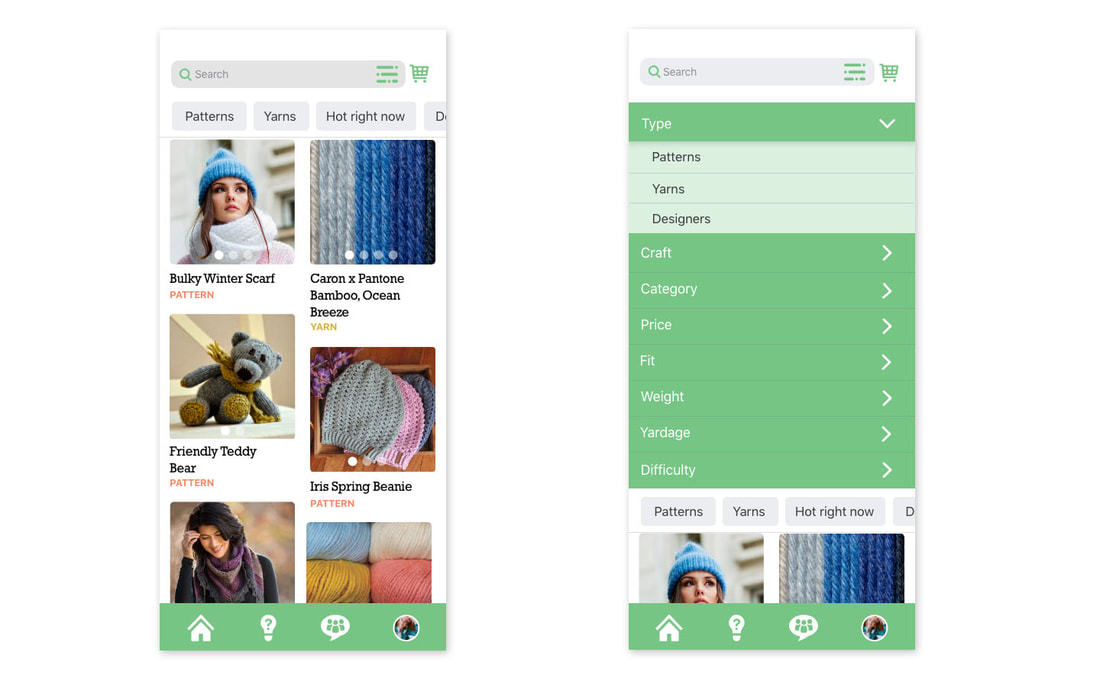 Searching
| | | |
| --- | --- | --- |
| | The search page was designed to encompass all possible search options through the advanced filters that users value. | |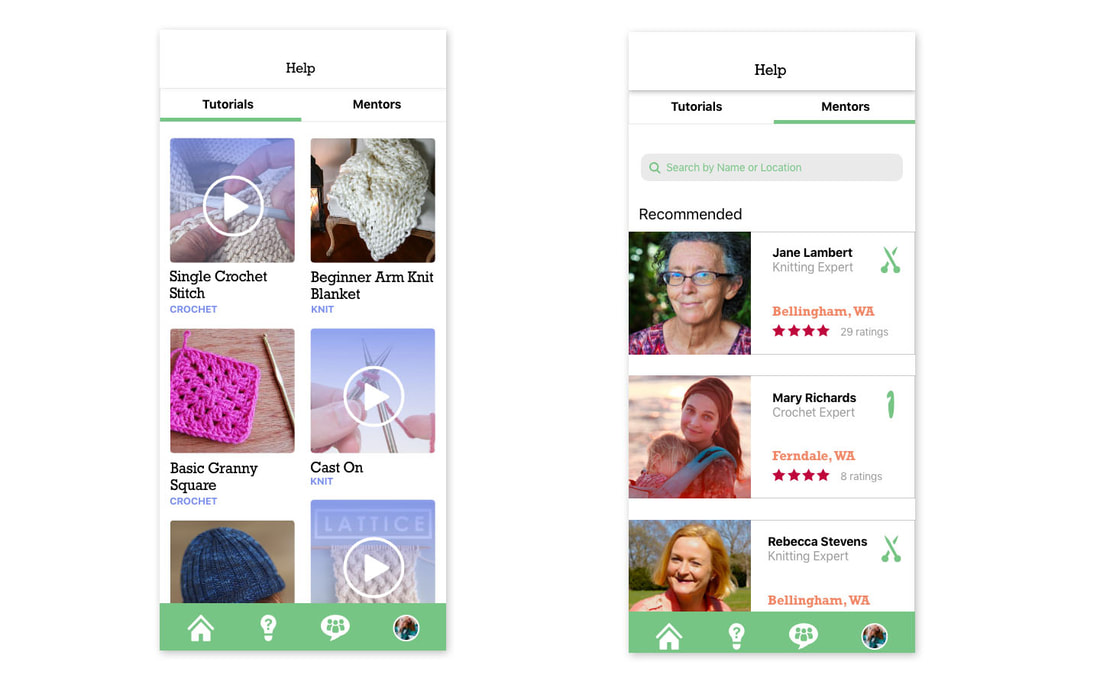 Help

In response to requests from user testing, we created a specific tutorial browsing section, and a Mentor feature to connect beginners with experts directly.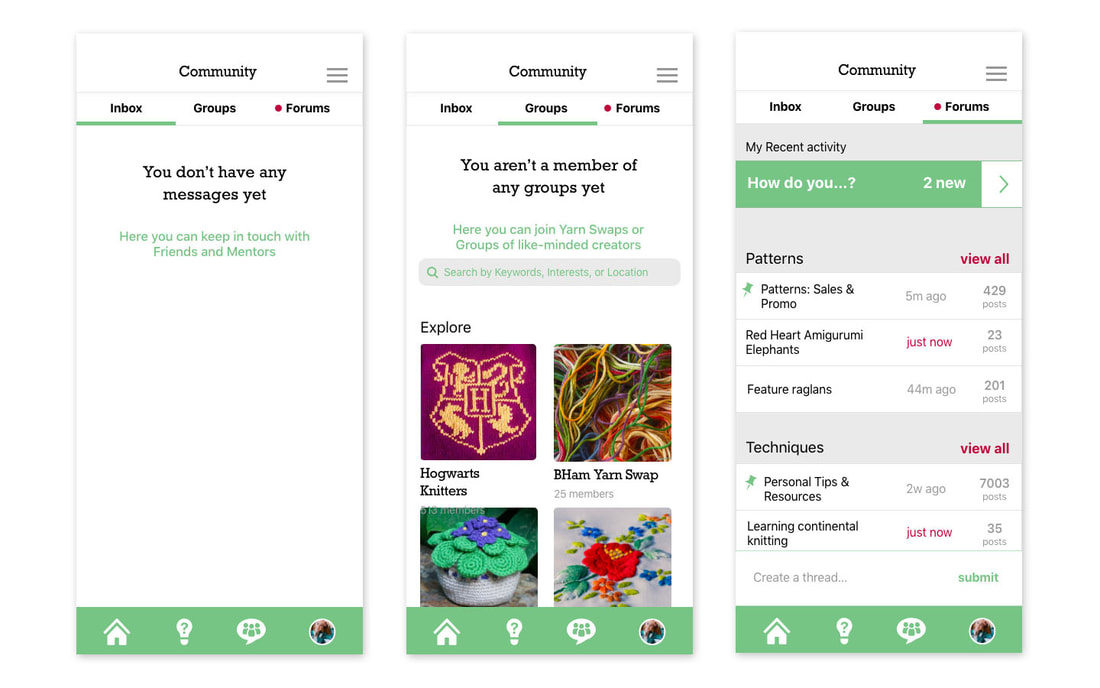 Community

To make the community easy to access, we bundled all communications under one heading. Notification indicators prompt the user to see their latest updates in different sections. Copy writing within the app encourages the new user to explore and meet new people.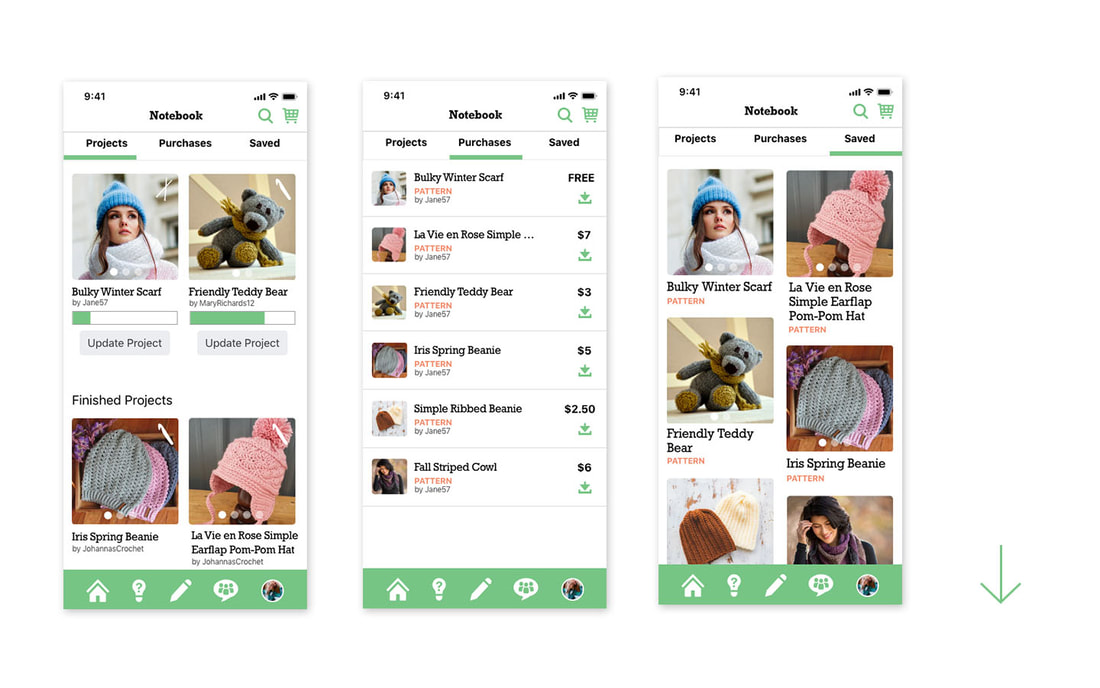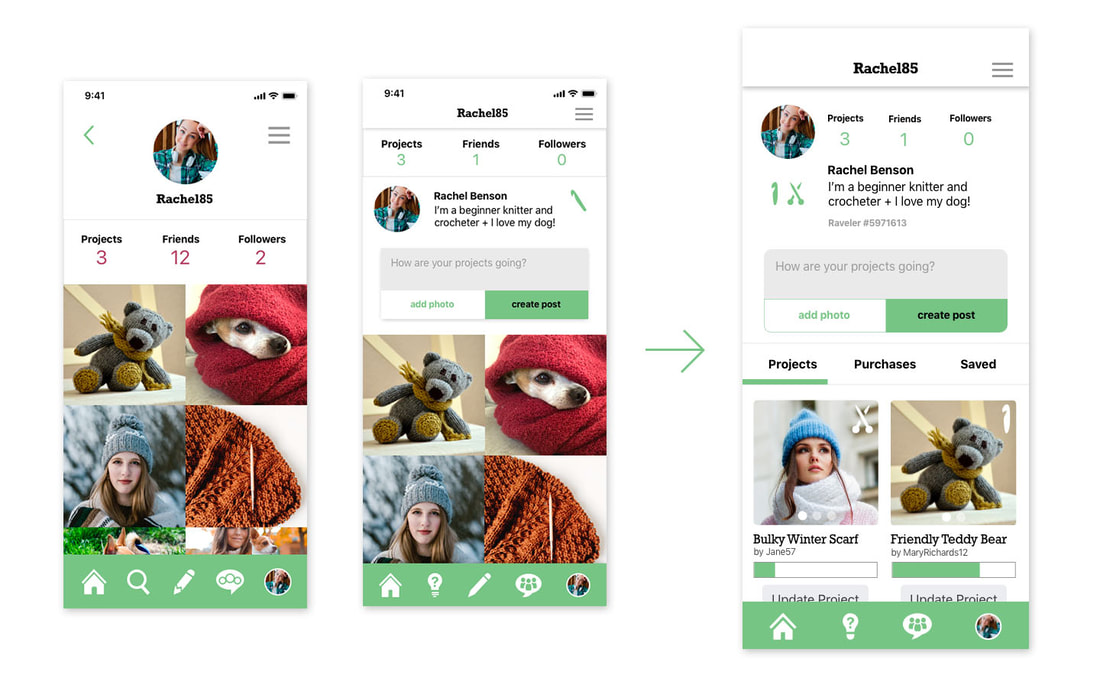 Profile

The profile went through the most iterations. Ravelry's organizational Notebook tool was a feature we wanted to include in our application for current users to recognize. We ran in to the problem of new users not understanding how to save patterns or where to find saved patterns. Every user looked at their profile to find these functions in every iteration of prototyping, so we combined the two.
Outcome

Throughout this project, we practiced prioritizing our goals as new information changed our assumptions. The details of icon designs were crucial to the user's understanding of the product. We had to combine common Ravelry features with more recognizable social media profile designs in order to create something more accessible to new users.

Thinking even farther ahead into the future, we see more room to integrate newer technologies, such as voice-activated features and digital assistants that help keep track of projects as you work, or tutorials that implement augmented reality to help you master tricky stitches.

Throughout this project, we got to engage with the Ravelry community through the website and in-person through our research and interview process. They were so happy to see younger people expressing interest in what they do. We found that other people who had never heard of Ravelry were always interested and excited to hear more about it. It is a unique social media platform that has the potential to bridge generational gaps, and we hope to see it grow in the coming years.